Utah Conventional Mortgage Loan
*The 1% down payment program has been terminated as of May 31st 2018
I'm writing this article for those of you that are either curious or unsure of your ability to qualify for a conventional home loan.
Great credit, not much of a down payment?
For once, that shiny 720+ credit score can help with something.
That's right, eligible Utah borrowers can purchase a home with only 1% down payment. Even better, the lender will contribute 2% (up to $5,000) to boost your equity to 3% at the closing table.
Bid your landlord farewell, and welcome that new puppy into your family!
How to qualify for the 1% down payment home loan
Must have a 720 minimum credit score
Available to first time homebuyers and repeated homebuyers alike
Owner occupied 1 unit homes only
Manufactured homes not allowed
1% down payment must come from the borrower's own funds. Gifts are allowed for additional down payment and/or closing costs
Allowable debt to income is 45% (or per the Automated Underwriting System results)
Lower Private Mortgage Insurance premiums available as a one-time lender paid a fee, or monthly borrower paid
Income limits apply per the Home Ready Income Eligibility tool.
Framework homebuyer education course is required – it costs $75. The certificate must be submitted prior to the loan closing.
This loan program is essentially Fannie Mae's Conventional Home Ready with 3% down payment, topped with some extra help from the lender.
If your credit is not quite there, no worries. Contact me for free, no-obligation credit analysis.
You can provide your own credit report from www.annualcreditreport.com to avoid a hard mortgage inquiry, or use my secure online application and allow me to pull credit.
You can also email me at [email protected] for a quick rate quote, and to get answers to your mortgage questions.
Next time you think about moving, keep in mind that the first month's rent and the security deposit add up to a down payment on your very own home.
This is the time to take action. The 1% down payment loan is a rare and valuable opportunity to take advantage of, and the program will end May 31st, 2018. Get your application in today.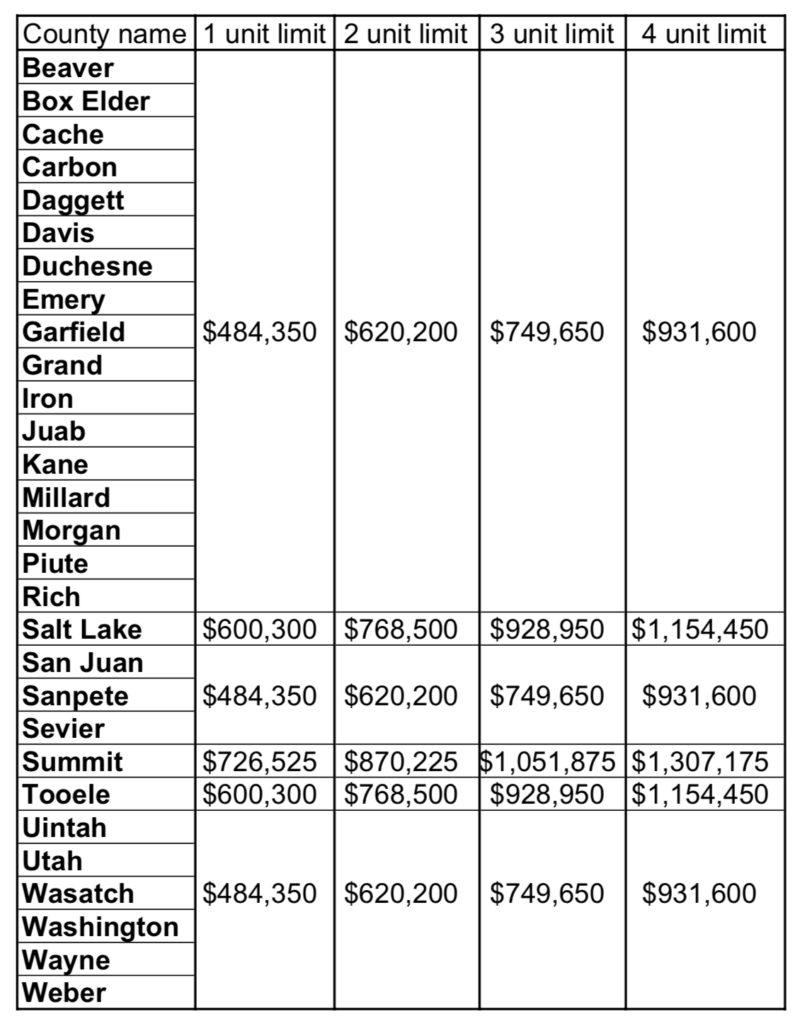 For Utah, there are 3 Counties that have higher loan limits: Salt Lake, Tooele, and Summit. These are all considered high-cost areas.
While still conforming, some loan requirements for these higher amounts will be slightly different – they fall under the loan program category called "high balance conforming."
As a side note, loans that exceed any conforming limits are ineligible for sale to Fannie Mae and Freddie Mac – they are called jumbo loans, and you can read about them in a different article.