How to Shop for the Best Mortgage Loan
Everyone wants a good deal, and I am not different.
I shop around for lots of things, and I always love a good deal.
However, some things require more thought because the stakes are so much higher. Buying a home falls into that category.
Unfortunately, the information to help you is not always readily available.
Advertised interest rates always have some sort of a "fine print", and reviews can't always be trusted. And if you think that going with a "brand name" is similar to quality or trust, think again. Generally speaking, the more marketing dollars a mortgage company spends to get your business, the higher the interest rates, and the lower the customer service level.
As the borrower, you don't really have access to your own loan process, and can't identify the culprit when things go wrong. It's hard to get mad without knowing who to get mad at. You don't know exactly how mortgage interest rates fluctuate when you're being told your interest rate went up. And you can't confirm or disconfirm if your underwriter is just being difficult, or your loan officer is a scatterbrain.
You only know what your loan officer wants to tell you, so working with someone that communicates well and earns your trust is very much important. Not just for your peace of mind, but for a smooth loan process as well.
Below are some pointers to help you make your decision, and I'll focus on 2 things. The most common misconceptions, and how to interpret the numbers you're looking at.
Know the basic misconceptions and traps of shopping for a mortgage
Interest rates aren't assigned, they are negotiated
You should receive a few different interest rate options to chose from, each with its own pricing. Each interest rate should list the costs or credits associated with it. The middle rate should be the one your loan officer considers best for you, while the other two should be one below and one above to point out the differences. The choice should be yours.
There is NO SUCH THING as a no-cost loan
I can't stress this enough, given how many borrowers are being misled by the no-cost sales pitch.
"No cost" just means that you are taking a higher interest rate, in return for the lender paying for part of/all of your closing costs. It is a mutually beneficial situation of sorts, but your loan officer should be upfront about this. Most mortgage companies will offer this option, but some will go out of their way to make you think they're really special for doing it. And if they brag, you can bet they'll charge for it.
The APR is really smoke and mirrors
While the intent was good, the practice sucks. The APR was designed to be a shopping tool for borrowers, helping them choose the loan with lower costs. Unfortunately – thanks to loopholes in the regulations – some lenders have to disclose all costs, while others can hide some of theirs. The lowest APR isn't necessarily the lowest priced loan.
Big Company Names Don't Offer Better Interest Rates
All that advertising doesn't come cheap. Neither do all the people that work for this company or the rent and utilities they need to pay to keep things running. What you are likely to get with big mortgage companies is often a higher interest rate and a lower quality of service. You might be lucky enough to not have any issues on your loan. But mind your ulcer if you do.
Avoid mortgage companies that charge an up-front application fee at all costs! There is no reason to put any money on the line before you get a Loan Estimate.
Don't necessarily trust what your loan officer promises
A lot of loan officers are under the pressure of a monthly quota. And they will do whatever it takes to get your business.
A few of the signs you're dealing with such a loan officer:
High pressure sales tactics – you'll know it when you see it
Can't be bothered to give you a quote without pulling credit
If you do get a quote, they'll conveniently omit third-party fees from the list of closing costs to make themselves look cheaper
They'll bad mouth the competition
If something doesn't feel right, go with your instinct. Ask questions. Get answers in writing. Hold that person accountable for what they tell you, and if things change, ask why. I'll leave it at that. I vented on the subject in a previous blog post: 5 Signs You Should Ditch Your Mortgage Loan Officer!
Numbers talk – you just need to listen
The single most important piece of document you want to focus on is the Loan Estimate (LE) contained in your initial disclosures package.
This form replaces the old Good Faith Estimate, and you should receive it in about 3 business days from starting your mortgage loan application (but not if you're just Pre-Qualified and don't yet have a home under contract). I always go over it with my borrowers, but if your loan officer hasn't, check out the Consumer Finance official website.
There are 3 types of costs associated with mortgage loans, but only one really makes a difference when comparing lenders. There are origination costs, third-party costs, and prepaid items.  I will lump third-party costs and prepaid costs together in the "other costs" category because they won't really be much different between lenders.
It's incredibly hard to deceive you once you understand what is what. I'll focus exclusively on page 2 of the Loan Estimate, as it lists all the estimated fees involved.
1. Loan Costs – This is where you compare lenders. See the top part of page 2 of your Loan Estimate
You will see listed fees such as:
Discount points (shouldn't really be there unless you have a lot of sellers paid closing costs to buy down the rate)
Underwriting Fee OR Administration Fee (sometimes it's shown, other times it's already included in the interest rate)
Application Fee (I never charge one, and you should never pay one!)
When you look at the above section, always look at line J as well – Lender Credits. "No cost" loans will have a chunk of lender credit listed. The lender will essentially cover your closing costs in exchange for you accepting a slightly higher interest rate (anywhere from 0.25% to – 0.5% higher)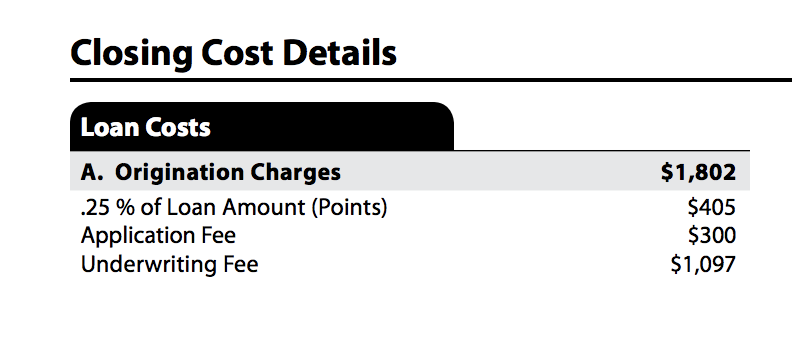 My Commitment To You
I don't lose paperwork, and I don't miss deadlines. I keep everyone updated. And I work for a brokerage that allows me complete freedom of the process. My files don't wait in line on a processor's desk, and I don't need anyone's permission to lock the interest rate.
I have full responsibility for getting things done, and I absolutely love it. And you will too. Because mortgage brokers do it better.
Oh, and I also speak "real estate agent." You'd be surprised how handy it is!

The market conditions can sometimes be volatile, with interest rates moving up or down multiple times a day. If shopping for multiple mortgage companies, ask for quotes on the same interest rate, preferably on the same day.
2. Other Loan Costs
The fees listed here will be third-party fees (credit report, appraisal fee, title company fees, and any inspections required) and pre-paid items (your escrow account set up, the daily interest you pay from funding to the end of the month, and insurance premiums which you shop for).
These fees are a normal part of any mortgage loan transaction, and because they are estimates, some lenders might estimate higher than others. They do not benefit the lender or your loan officer, and they are only collected to be distributed to the correct parties – based on actual invoices of services performed.
If you notice a huge difference, then you'll want to inquire on why that is – but small price differences are irrelevant.
To give you an idea, appraisals should cost around $500, and escrow accounts are set-up with two months worth of property taxes and hazard insurance.
The daily interest is collected depending on the number of days left in the month at the time of your loan funding. So let's say your mortgage loan funds on January 28 – you will pay 4 days worth of interest. Your first mortgage payment will be due March 1st and will contain the interest charged for the month of February.
If you need a quick quote for comparison, please email me the details of your loan scenario at [email protected]. A credit pull is not required.