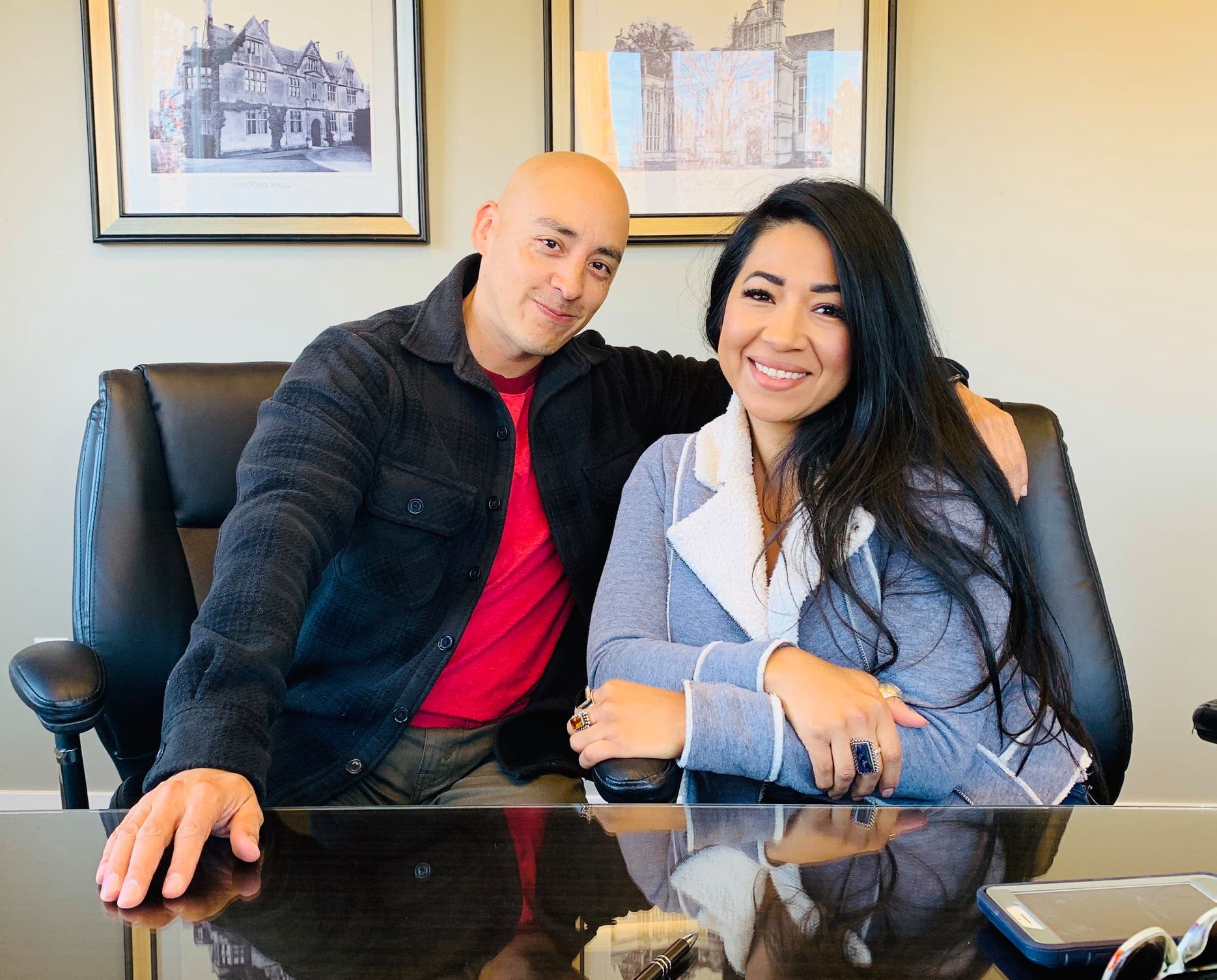 Considering a VA Mortgage Loan In Utah?
A word of caution before you proceed on your home ownership journey. Veterans have been taken advantage of by big mortgage retail for years now.
You protect us, so let me protect YOU.
I encourage you to do your due diligence and to reach out to a local mortgage broker before agreeing to a VA home loan issued by the big names all over the internet. Advertising costs money, and it's rolled into the interest rates you're being offered. Names you've been conditioned to trust have been taking advantage of VA borrowers for years now. This includes blogs that seem to have good information, but are filled with advertising for different mortgage companies, and rates that seem too good to be true. These companies pay a pretty penny for your information.
The same VA guidelines that have made homeownership easier for veterans have also allowed unscrupulous lenders and mortgage companies to take advantage.
They will try to sell you higher interest rates that may still seem low compared to Conventional loans.
Some will do their best to eat up your equity by rolling ridiculous amounts of fees into your loan amount; or by pushing adjustable rate mortgages (ARM loans) that they will come back to refinance you out of, and collect more fees for.
Others will flat out try to dissuade you from getting a VA loan out of sheer ignorance or a hidden agenda (Dave Ramsey promotes such non-sense without a proper understanding on how VA loans work, and with disregard for the low rate of default on them, despite the 100% financing)
Before applying for an Utah VA mortgage loan, do your research on how this awesome loan program works. Ask the questions, and work with someone that is knowledgeable. Don't feel like you have to hand over all your personal information just to talk to someone.
Let's start by clearing THE FOUR BIGGEST MISCONCEPTIONS when it comes to Utah VA home loans. This really applies nationwide as well, but Utah is my home and my target audience. If you're considering moving here, feel free to reach out!
Misconception #1: VA Home Loans Take a Long Time To Close
When you apply for the Utah VA home loan, the process will be just like with any other loan program.
Unlike with other home loans, the VA appraisals are ordered through the VIP (Veterans Information Portal) lending system and are assigned to specific VA approved appraisers, who will take about the same amount of time to complete your report as the average Conventional loan. In my experience in Utah, reports are actually received faster on VA home loan orders, so don't believe any non-sense about the process taking longer. A VA appraisal rush fee is not an allowed fee on VA loans, but I've been able to pay for one in the past on behalf of my clients when called for. Here is the link with nationwide VA appraisal turn times.
Should you decide to switch lenders halfway through, you can actually transfer a VA appraisal instead of paying and scheduling a new one.
Work with a loan officer that is responsive and knowledgeable, and provide him/her with all the loan documentation in a timely manner.
Misconception #2: VA Home Loan Funding Is Provided By The Department Of Veterans Affairs (VA)
A VA loan is a mortgage loan issued and funded by a private lender, but partially guaranteed against borrower default by the U.S. Department of Veterans Affairs (VA).
From the lender's perspective, this is equal to you making a 25% down payment, making the mortgage loan extremely low risk and allowing for better borrowing terms.
This guarantee currently extends to 25% of amount specified by the 2020 Utah loan limits found below on one-unit properties (updated as of  today, 3-11-2022).  You can also use this link to the official Utah VA loan limits to make sure the information is up to date.

Misconception #3: VA Home Loans Have No Closing Costs
Mortgage loans will always have closing costs.
Title companies will charge title fees. The appraiser will want to get paid as well. A new escrow account for your VA mortgage will need to be set up and will have the legal cushion for property taxes and homeowner's insurance. And so on.
Some or all of these costs can be offset by lender credit in exchange for a higher interest rate, or rolled into your loan amount on a refinance. The seller of your new home may even agree to pay for your closing costs, although that's not as common in our market anymore.
Mortgage companies advertising no-closing costs loans are being deceitful UNLESS they explain how closing costs work, and give you rate options with and without closing costs covered so you can decide for yourself if it's an option that works for you.
Misconception #4: I Can Only Have One VA Home Loan At A Time
You can have as many VA loans as your entitlement amount permits – generally at least two, sometimes even three if you have funds to make the required down payment. This is called second-tier entitlement, and this official link explains how the VA guarantee is calculated.
The main requirement is that the new VA home you purchase has to become your primary residence.
Please note that refinancing an existing VA loan into a different type of loan such as a Conventional one does not restore your entitlement. You need to sell the property, the VA is very clear on this (your spouse can't retain ownership interest in it either, even if you're in a non-community state).
Utah VA Mortgage Loan Eligibility
Active and honorably discharged retired military, National Guard members, as well as surviving spouses and other categories can be eligible for VA home loans. The complete list can be found on the official VA website
Once established that you should qualify, go ahead and obtain a copy of your Certificate of Eligibility (COE). You can retrieve it online from the eBenefits Portal, or the lender/broker can request it on your behalf – provided they have a VA loan application from you.
If your Certificate Of Eligibility (COE) is not available online for one reason or another, you will need a copy of your DD214 Report of Separation from the U.S. Military. Click here to obtain it online, from the official government website. There is no fee involved. Please safeguard your DD214 copy – VA cannot always retrieve accurate records for you. On your VA Certificate Of Eligibility, you will notice there is an entitlement code.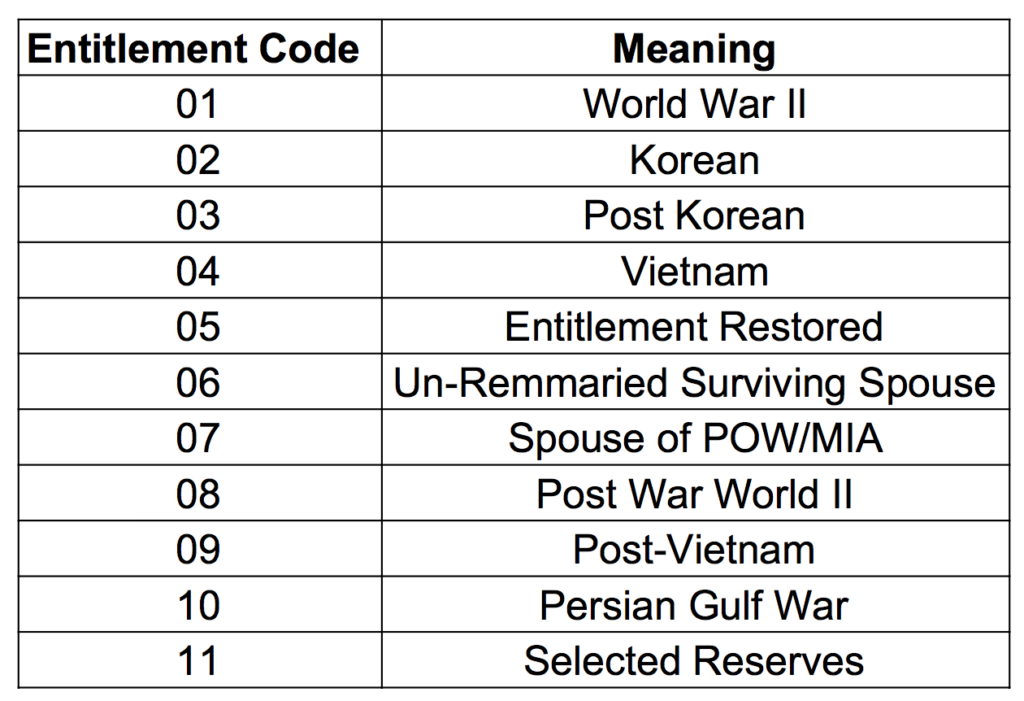 This is directly tied to how you served in the military, if you were in the reserves, if you are an un-remarried surviving spouse, or if your entitlement has been previously restored (requiring a subsequent use VA funding fee). Utah and VA loans come with a lot of benefits, such as no down payment requirement, low-interest rates, and no mortgage insurance. There is only a slight drawback: the VA funding Fee – this fee is paid to the VA, and will usually be rolled into your loan amount.
While not cheap, the VA funding fee is usually a much better alternative to mortgage insurance (which are associated with conventional home loans). The VA funding fee can be financed into your loan amount so it's not paid out of pocket.
Who Can Get A VA Funding Fee Exemption?
Utah veterans who currently receive VA compensation for service-connected disabilities
Surviving spouses of veterans who died in service or from service-connected disabilities
Veterans who would be entitled to receive compensation for service-connected disabilities if they did not already receive retirement pay or active service pay
Utah veterans rated by the VA as being eligible to receive compensation – resulted from pre-discharge disability examination and rating.
What Kind Of Property Can I Buy With A VA Home Loan?
Utah VA loans can be used to fund the purchase or construction of a home or condominium, as well as the purchase of a manufactured home, and the lot that it will be installed on.
The property financed by a VA loan must become the borrower's primary residence.
Note that condominium units have to be located in a VA approved project – follow this link to check the eligibility of a condo with the VA.
Basic qualifications include:
50% or more of the building units must be owner occupied
No more than 15 percent of owners can be behind in Homeowners Association (HOA) fees
If condos are to be newly constructed, 75 percent of the units must be sold prior to allowing VA loans
I once had a veteran that had a hard time locating a VA approved condo in Park City, Utah – He eventually settled on a very nice townhouse (PUD), which is not subject to the condo requirements.
Do I Qualify For a VA Home Loan?
Having the proper VA entitlement amount available is crucial, but there are other qualifying factors to consider, such as your repayment ability (income) and credit history.
While the VA can set some basic criteria, the lenders will often set standards, according to their level of risk comfort.
The minimum credit score required by most lenders on a Utah VA Purchase Loan or Cash-Out is 580. Since the pandemic, most lenders have increased this to 620.
Do Not Apply For A VA Loan If You Have Multiple Delinquent Accounts Or Late Payments In The Past 12 Months. Absolutely no late mortgage payments in this time period either, it's an automatic denial.
Email me at [email protected] so I can advise on the best course of action. If your credit needs a good clean-up, here is one credit repair company I can actually vouch for. Pricing details in the video when you follow the link.
Streamline Refinances (IRRRLs) need at least a 620 credit without an appraisal, or can go as low as 580 if an appraisal is performed.
Credit History – Derogatory Information
2 year seasoning period is required, and the credit report must reflect a "0″ balance on any mortgage liens included in the foreclosure.
No foreclosure history allowed within the past 7-year for High Balance and Jumbo VA loans (loan amounts over the county loan limits described above)
– Chapter 7 requires a two-year wait (1 year with documented extenuating circumstances)
– Chapter 13 requires documentation of debt restructure, 12 month on-time payment history, and documentation of the court's permission to proceed.
*The reason for the bankruptcy must be documented and not likely to reoccur.
No Bankruptcy And Foreclosures Allowed Within The Past 7 Years For High Balance VA Loans And Jumbo VA Loans.
Modified/Restructured Loans
A modified or restructured lien on a property other than the subject property is acceptable if:
No principal forgiveness or reduction has occurred
The modification or restructure adjusted the terms and/or payment only
The mortgage must be current with no lates in the last 12 months.
Must be paid prior to/at funding or have a repayment plan with a history of on time payments.
Delinquent Accounts (I.E. Collections)
Must be satisfied per automated underwriting system results, or underwriter discretion. Medical collections and amounts owed adding up to under $2,000 are negligible – unless we're talking about delinquent federal loans. Those would need to be brought current.
Debt To Income Ratios (DTI)
In order to get an idea of your debt to income, add together the monthly expenses that show on your credit report (consider only the minimum payment required), along with the new proposed mortgage payment. Make sure to include monthly taxes and insurance, as well as any HOA fees.
Divide that by the amount of gross income (pre-tax) you receive monthly.
For example:
Let's say you have a new proposed mortgage payment of $1,500, an auto loan payment of $300, and a credit card payment of $50. Your total monthly debt would be$1,850.
If your gross monthly income is $5,800, then your debt to income is 1,850÷5,800= 0.32 (32%)
VA loans don't really have debt to income limitations, provided the residual income of the borrower is exceeded by at least 20%. BUT – lenders generally require an Approve/Eligible result from the underwriting system in order to exceed 43% debt to income ratio. I have yet to receive an Approve/Eligible result for credit scores under 680 and debts to income over 50%, unless there are significant compensating factors present on the application (a combination of savings, along with a decrease in the housing payment is a good example).
So in order to access the waivers that allow your debt to income to be higher than usual, you need to have a credit score over 680.
Residual Income is the amount of net earnings remaining to maintain family living expenses such as food, healthcare, clothing, and gasoline.
Here Is The Residual Income Family Chart For Utah In 2022, Assuming A VA Loan Amount Of $80,000 And Over: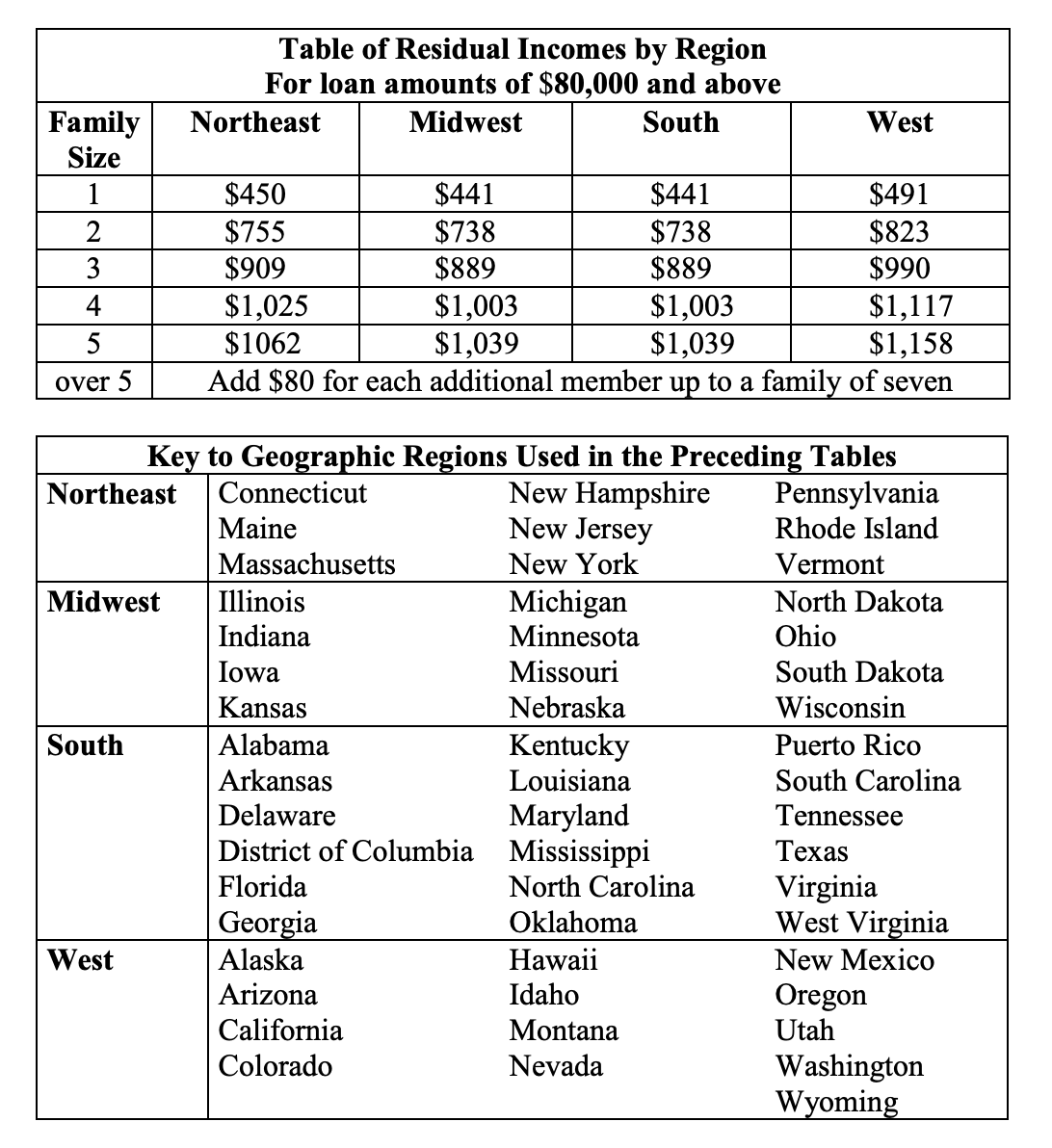 Sources of income require the same documentation as for the Utah Conventional mortgage loan program with a few differences on the rental income:
If the primary residence is being converted into an investment property, rental income can be used to offset the mortgage payment (but not as income) for the departing residence if:

A lease agreement is present or
Market rental value can be used if there is no indication that the property will be hard to rent

If the property purchased is a 2-4 unit, prospective rental income can only be used if evidence indicates that the borrower has a reasonable likelihood of success as a landlord, and the borrower has a minimum of 6 months of mortgage payments in reserves; The amount of rental income to include in the effective income is 75% either verifiable rent, or the appraiser's opinion of a fair monthly payment.
Interested Party Concessions (seller paid closing costs)
Utah VA loans allow interested party concessions (seller paid closing costs) up to 4%.  In our market though, asking for up to $5,000 is considered reasonable – anything over that would be excessive.
It's important to note that VA home loans are the only type of loan where seller concessions can be used to pay down the veteran debt in order to help him/her qualify for the loan.
Gift funds (should you decide to use them) on VA loans need to be accompanied by a gift letter, and proper documentation regarding the source of the funds.
Gift funds are not allowed on Jumbo VA loans.
There Are So Many Good Reasons To Buy A New Home Using A VA Home Loan
No down payment, flexible credit requirements, access to low government interest rates – VA mortgage loans are not only convenient, but they are also financially smart!
Currently, available VA mortgage loan terms are 15 and 30year fixed interest, as well as 3-1 and 5-1 ARMs (Adjustable Rate Mortgages).
Another Perk: VA Home Mortgage Loans Are Assumable – A Welcomed Advantage In The Sale Of Your Home, Especially In A Market With High-Interest Rates.
While I tried to cover the most common concerns of borrowers looking for VA loan financing, please do not hesitate to email me your questions at [email protected]
Apply online now, and get one step closer to obtaining the best financing for your next dream home.
Worried about covering closing costs? My quote will always include a choice of 3 interest rates, one of which will cover most or all of your VA loan closing costs.
Or – see if you could potentially qualify for any of the Utah Down Payment Assistance Programs. Funds can be used to cover your closing costs, or VA funding fee charge.
Choose the Utah VA home loan in 2022 – you earned this benefit!